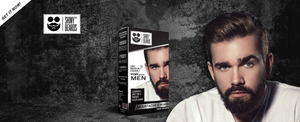 Beard is a gift that is not given to everybody.
Beard Filler Pencil
Our beard pen is gentle and hypoallergenic to your skin, waterproof and last for all day long. Will come with a double ends beard brush for better shaping. Perfect kit for gentle men with beard. Draw the outline of your beard and then fill the gaps among your beard with light strokes,
ORDER NOW
Never worry about Stains in The Skin again

Our tests showed that our Formula in 99% of the cases, there was no staining in the skin, like the most of the Brands available in the Market


ORDER NOW
SHINY BEARDS©
On the job, dating, or just in everyday life, people judge you by your appearance. Vanquish the gray and get your mojo back.
VIEW PRODUCT
Easy Brush-in Color
Choose from 4 different shades ranging from blond to black.When in doubt or unsure of which to choose, always go with the lighter shade.
VIEW PRODUCT
Beard Filler Pencil
The design of beard pen helps you to get 3D hair-like beard, with light strokes and slightly fill in the gap for natural beard appearance.
VIEW PRODUCT
Beard Coloring for Gray Hair
SHINY BEARDS© men's beard coloring product is easy to use. Simply mix the color base and developer, use the brush to apply, wait 5 minutes, rinse the product out, shampoo, and you're done. Be sure to read and follow the enclosed leaflet for the best results.
ORDER NOW